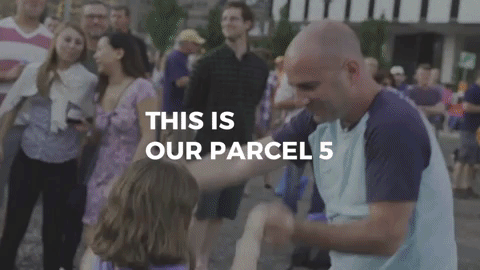 ROCHESTER'S TOWN SQUARE
Parcel 5, the former home of Midtown Plaza, has a long tradition of shared public space that has gathered Rochesterians and visitors for decades. Unfortunately, Rochester lost a true town square long ago. A movement is currently taking place, led by the community, to reclaim the story of our downtown, and Parcel 5 is the main character.
We've already proven that Parcel 5 works as a public space.
Now it's time to take the next step and formalize the space by planting grass. This allows for even more uses and for easy and formal programming of the space. It works in Columbus. It works in Detroit. It works in New York. The list goes on.
This city needs a central place to gather during all seasons of the year. A versatile town square where culture, commerce, and community can thrive. A space of inclusivity and equality. A space for festivals, music concerts, and theatrical productions. A space to enjoy our local fare and flavor. A green space where our community can relax or play while admiring the urban landscape that surrounds us.
Parcel 5 is a central location of our city.
It is the linchpin to connecting our downtown geographically, a natural midpoint between our walkable East End District and many other areas of downtown. An incremental approach to development on this site will enrich every other space downtown.
Together we can reanimate the Midtown core through the positive economic impact of a true town square. But we need the entire community's help to encourage our local leaders to collaborate on a new vision for the center of our city.
It's not about being right.
It's about doing what's right for our city.
READY TO HELP?
Join the movement